Joulumaantie 1, 96930 Arctic Circle, Rovaniemi, Finland

Info@santaclausoffice.com

Free Entrance

Open Every Day of the Year
| | |
| --- | --- |
| Date | Opening Hours |
| 1st SEP 2023 - 11th NOV 2023 | Mon - Sun 10 A.M. - 5 P.M. |
| 12th NOV 2023 - 30th NOV 2023 | Mon - Sun 10 A.M. - 6 P.M. |
| 1st DEC 2023 - 6th JAN 2024 | Mon - Sun 9 A.M. - 7 P.M. |
| 7th JAN 2024 - 25th FEB 2024 | Mon - Sun 10 A.M. - 6 P.M. |
| 26th FEB 2024 - 31st MAY 2024 | Mon - Sun 10 A.M. - 5 P.M. |
| 1st JUN 2024 - 31st AUG 2024 | Mon - Sun 9 A.M. - 6 P.M. |
Santa Claus Office is in this building.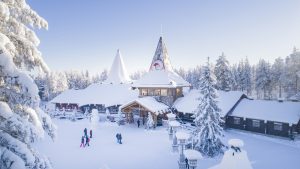 Open every day of the year, free of charge!
Santa Claus Office, located in the Santa Claus Village at the Arctic Circle, is the official place to meet Santa Claus.  See information below.
Connections
Nearest town and transport hub to Santa Claus Office is Rovaniemi, situated in Finnish Lapland. Getting to Rovaniemi and further on to Santa Claus Office is easy by various means of transport. From abroad, the town is easiest to get to by air via Helsinki, or with the seasonal direct flights directly from abroad to the Rovaniemi Airport and other way round.
In Finland, Rovaniemi can be reached by air, train, coach or car. Please see detailed information below.
By Air
Finnair and Norwegian operate daily flights between Rovaniemi and Helsinki Airport, throughout the year. During the high season, there's also direct connections from abroad, i.e. London Gatwick.
Please check more information in Finavia Rovaniemi Airport site here.
By Train
Rovaniemi is easy to reach by rail from many Finnish towns. There are several trains running to and from Helsinki every day, year round.
Please check more information in the Finnish Railway Network site in here.
By Bus
You may also reach Rovaniemi by bus. The connections are good to and from every direction. From Rovaniemi city centre you can travel to Santa Claus Village with the local bus number 8 (timetables) or Santa Claus Bus (timetables).
By Car
Rovaniemi and Santa Claus Village is quite easy to reach by car from all directions. Santa Claus Village is located 8 km from Rovaniemi. Please refer to the map – the coordinates for your GPS are: +66° 32′ 37.11″, +25° 50′ 51.44
By Reindeer and Snowmobile
Santa himself prefers reindeer when it comes to transportation. He always has a bed and breakfast ready for reindeer too and you may see some of them around Santa Claus Office. Winter is also good for visiting Santa Claus Village by snowmobile, along official snowmobile tracks or as part of a snowmobile safari.
If you are interested to visit Santa Claus by reindeer or by snowmobile, check the options, offered by Lapland Safaris.
Where to Sleep
If you decide to stay for the midnight sun or northern lights, Rovaniemi and Santa Claus Village offer many options for a good night sleep. Lapland Hotels offers variety of options for a traveller to spend the night in Rovaniemi.
Rovaniemi Tourist Information
Please check VisitRovaniemi site for more tourist information from Rovaniemi.
Santa Claus Village Map
Here you find Santa Claus Village map.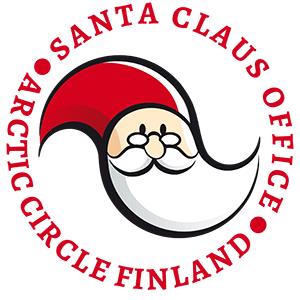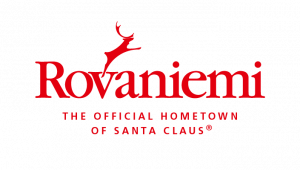 Warmly Welcome!