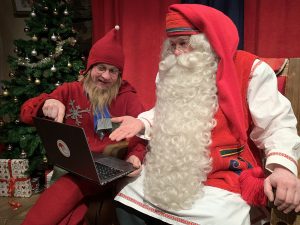 Share an unforgettable moment with Santa Claus!
You can now have a video call with Santa Claus no matter where you are, the connection is made by online service (Skype or Whatsapp). You'll have a once-in-a-lifetime opportunity to ask all the questions you have been wondering about and tell your Christmas wishes to Santa Claus. Also, you can check if you're on the good list!
Meet Santa Claus and have a talk with him on a video call!
How to order:
Fill out the order form
Santa Claus Office will contact you and discuss the details of the call
Complete your purchase by using a payment link provided by Santa Claus Office
The duration of the call is about 5 minutes and it can be arranged on a following day after ordering. Available for a limited time.